I met my wife Marsha, online, in January 2013 and I wrote three pieces to her, which I add to this November, 2021 post. We married (legally) in 2014 and since then, my life has been a complete flurry of my wife's cancer (thankfully in total remission!), my oldest sister's death (who I miss each day), the ins and outs of living with the one (Marsha) who I love, new pets, and a general state of too busy to express my thoughts here, as I once did faithfully. Not to mention….Covid!

With this post, I wish to let the world know that Marsha is my Rock and my Joy. She is my life's TRUE Beshert. My life's TRUE Love. I thank God, and her, each day for our love, and for our ability to be married. We share Wedded Bliss and Daily Fun and Joy.

I previously did not show you how BEAUTIFUL she is, so I'm showing you now. And add 2 photos from our wedding. We were wed at Beth Chayim Chadashim by our Lesbian Rabbi, Lisa Edwards.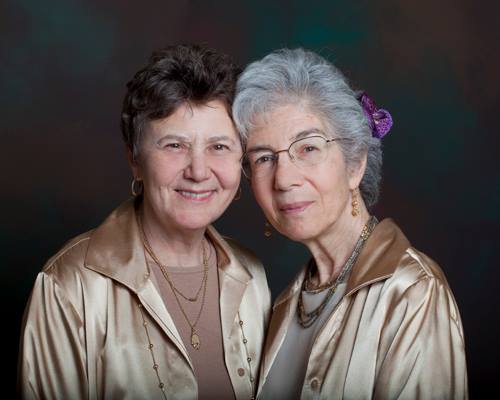 Waking Confusion
Posted on 3
I awake in my bed this morning, not yours.
My legs search for the luxury of your warmth in vain.
Back and forth your house mine.
Were it not for precise schedules long discussed
written down
schedules not remembered
without a book
we could not track whose bed we sleep in.
One, two nights at the most we sleep alone
else the hunger for your touch
slay me.
---
Profound and Sacred
Posted on 3
May our intimacies always be
profound and sacred.
Profound and sacred sharing of our
Past
Pain
Joy
Fear
Present
Concerns
Hurts
Neglect
Present
Touch Touch Touch
Lips
Skin
Fingers
Hands
Present
Laughter
More Laughter
Joy
Tears
Awe
Sacred Calling In The Divine
as witness to what we share
what we Create.
Sacred Sharing
Touching
Lips
Skin
Fingers
Hands
Sacred Praise and Blessing for
This Gift of You.
---
I used to wallow in time
Posted on 3
Time…..a commodity
a cognitive construct
a shaping of reality
a shaping of sanctity
a figment of our imagination
relative
too little
too late
right on
not enough
too much
does anyone ever have too much
what to do with it all
waiting
rushing
too busy
just enough
When I am with you
there is never enough
When I am with you
it is suspended
in the exquisite
present
When I am not with you
I wait
I long for….breathless
I hunger for….breathless
time with you
I used to wallow in time
some days it felt oppressive
the l-o-n-g s-t-r-e-t-c-h-e-s
of sorrow
The sorrow is long past
its intensity will not enable
forgetting
But it now enables
relishing
sweetness
sweetness
glory in Gratitude
for my Time with you